Do You Know Your Neck?
Knowing how a healthy neck works can help you understand your neck problem better.  The neck is made up of structures that help hold your head up.  Muscles in your neck and shoulders play an important role in your neck's health, in supporting your head and with movements in many directions.  Correct movement and rest help neck structures remain flexible and healthy. So, do you know your neck?
Your Lifestyle or an Injury Can Cause Neck Problems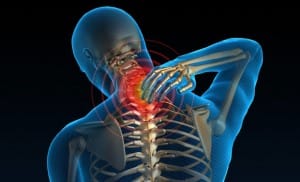 You may have neck problems caused by several ways.  You may have strained your neck from repeated movements.  You may have  had an injury such as a car accident, or a fall.  Age and stress can be contributing factors.  If your neck is damaged, you may feel pain, stiffness, or numbness.  Other symptoms can be muscle tightness in your neck and shoulders, or pain on other parts of your body such as your arms and hands.
Poor posture, injuries, arthritis, stress – these may take aim at your neck, cause pain, and limit your ability to do the things you enjoy.
Treatment Can Relieve Your Symptoms
If you have neck pain and stiffness, you may be able to get relief.  A Physical Therapist can help you manage your neck problems and with daily exercise and good posture habits, you can help improve the health of your neck.
Rest.  This may not be the easiest thing to do since you need time away from work or other responsibilities.  But give yourself some time to rest to speed  healing and relieve discomfort.  Lie down with a pillow or rolled-towel under your neck.  When upright, some practitioners may prescribe a cervical collar.
Apply Ice.  While resting, icing your neck helps relieve your pain.  Ice packs are readily available, or use a "bag of peas".  If ice doesn't give you relief, a heating pad may help to improve the circulation and relieve the muscle tension and pain.
Medication.  Depending on your needs, your doctor may prescribe medications or even advise you take over-the-counter pain medication to help relieve your symptoms.  Analgesics help relieve pain, muscle relaxants helps relieve muscle tension and spasms, anti inflammatories help decrease swelling in your neck.
Follow These Helpful Hints
1.  Daily Routine.
When shaving, don't tilt your head back
Wash your hair in the shower, not in the sink
Use a straw when you drink from a can or bottle
2.  Driving.
Avoid prolonged driving or riding.
Adjust your seat and headrest so that your back and head are properly supported
3.  Working.
Take breaks and stretch your neck often.
Work at eye level.  Use a stand when typing.  Use a stepladder instead of reaching up
Always use common send when lifting
4.  Leisure Activities.
Break frequently from activities like gardening.
Don't sit so close to the front of an audience, like when watching a movie, that you need to tilt your head back to see.
5.  Sleeping.
Use a firm mattress and keep your head level
Don't sleep on your stomach for it forces your head up.
It's best to sleep on your back with one pillow, and support your neck.
Know your neck, protect you neck with good body mechanics, manage stress in your life.  Good everyday neck care can help prevent future problems.  Don't risk your neck!
If you have neck problems that just won't go away, call KTS Physical Therapy for an appointment today!
By Jennifer Angeles (Updated: 06/14/2020)