Most back injuries occur with improper lifting.  The worst lifting situation happens when the body is extended over the load – the lower back becomes the fulcrum supporting the weight of the body plus the load.  Twisting in this position causes back pain and injury.  Keeping your back straight and using your legs reduces the lever effect.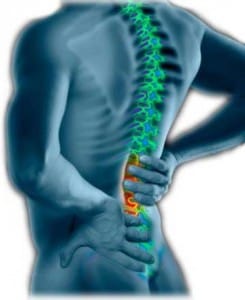 Proper Lifting Techniques
Have good footing – Keep feet apart and have firm footing.
Bend your knees – Don't bend from the waist.
Tighten your stomach – this helps support your spine when you lift.
Lift with your legs – Your legs muscles are powerful and can do the lifting for you, don't use your back muscles.
Keep the load close to your body – hold the load close to your body.  The closer it is to your spine, the less effort you exert on your back
Keep your back straight – Don't bend from the waist when lifting or putting down the load, don't add your weight to the load. Avoid twisting because this can cause back pain and injury.
Every you move you make depends on your back.  Keep your back in mind when lifting and remember these proper lifting techniques to save your back.  Back pain should be taken seriously, because the longer you wait, the worse your condition may become.
If you have back pain and have injured your back from improper lifting at work, leisure, or recreational activities, call to get examined  by our physical therapist at KTS Physical Therapy in Severna Park, MD at (443) 906-6070.
By Jennifer Angeles (Updated: 06/14/2020)